Flat, plain and boring?? Unfortunately, a lot of people still think like this when they talk about Groningen. But you can take it from us that this is not true at all. In fact it's quite the opposite, this region offers a surprising varity of nature and culture. If you jump on a bicycle you can cycle along cobbled roads and old church paths where you're unlikely to meet any traffic and be able to explore the surroundings. Or maybe you would like to experience the peace and quite of the area on the water and in a canoe. Did you know that Groningen has more than 800 km of canoe routes?
With so much water around, it's obvious that the sport angler can for fill his or her desire. Around the lakes and rivers there are a lot of fishing spots where you can throw a line in. You do of coarse need a fishing permit. In the ponds around Ekenstein Park, fishing is not permitted.
In many villages you'll find an authentic centre, with century old streets and buildings. In 1972 Appingedam recieved a "Protected Town centre" status. Here you'll find, amongst other things, the famous "hanging kitchens" and the beautiful "Nicolai church". In the friendly shopping streets in the historic centre you can buy almost everything you need, and if you need a short break from shopping then why not stop at one of the street cafés on the Damsterdiep. From June until the end of September there are various cultural happenings that attract people from far and wide.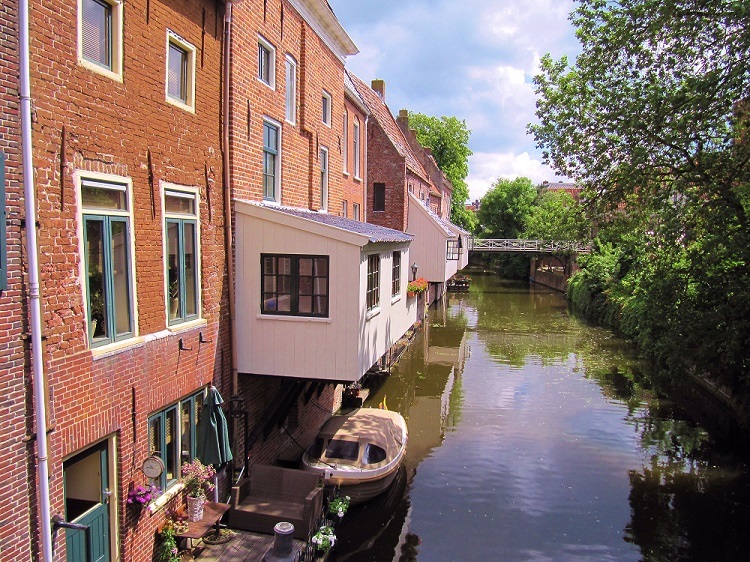 What else is there to do and see??? Well actually too much to mention here, but we'll try.
Directly next to the campsite is Ekenstein Family Park. A lovely place to walk, with an old and new area. In the old area you'll see traces of the designer, the famous landscape architect "Roodbaart". There is also a petting zoo, play garden and also a rook and heron flock.
In the province of Groningen you'll find many different museums, such as Appingedam Town museum, the Bell-founding museum, the National Coach museum and even The Children's Pushchair museum. Muzeeaquariom in Delfzijl with it's museum , sea aquarium and small museum also deserves a visit.
Maybe you'd like to visit one of the many 'Borgen' a cross between a castle and a country home. Most of them are open to the public and often lie in the grounds of a beautiful estate. For example the "Fraelemaborg" in Slochteren or the "Menkemaborg" in Uithuizen.
The wine lover is also not forgotten in Groningen. Near to the campsite, in Wirdum, is Groninger Wine Farm. You can try many original wines here, such as Potato wine and spinach wine. For larger parties it's also possible to arrange lunches, diners or even a complete wedding reception.
Then there are the windmills, swimming pools (open air and covered) and don't forget the sea ports of Delfzijl and Eemshaven. Also the fishing villages Termunten and Zoutkamp are worth a visit.
And that Pieterburen has a Seal Rehabilitation and Research Centre and that you can take the "Wadloop" trip from here was something that you already knew of coarse.
At the reception we have many information folders and papers you can use to plan your excursions, and of coarse we are always pleased to offer advice when you're not able to decide what you would like to do.