Camping Ekenstein covers just about 3,5 ha on which we offer year-, seasonal- and touring pitches. Our landscaped site is carefully laid out with level, well drained and generous sized pitches divided by a variety of trees and hedges, thereby offering you privacy and shelter. All pitches have electric hook ups (6 Amp). For tents and caravans who don't need electric, there are also some spacious fields.
Our small and natural green site is suitable for anyone who's seeking peace and quiet and is interested in the nature and culture of the surounding area. Although the area can offer some attractions for children, the site itself maybe less suitable for children. We neihter have a swimming pool or a playground, or even a sandbox. All we offer is rest and quietness, seldom found in these hectic times and therefore cherished and respected. After 23:00 hours it should be absolutely quiet, so anyone who wants to, can really have a good nights sleep.
Dogs must be well behaved and kept on leads at all times whilst on the campsite. NO EXCEPTIONS.
Pitches: Pitches are available from 12 o'clock on day of arrival and should be vacated by 12.00 am on day of departure.
Teenage parties not forming part of a family unit will not be accepted.


A bird's eye view of our campsite Ekenstein.



(click to enlarge.)




For more information and photo's, please click various spots on the map below.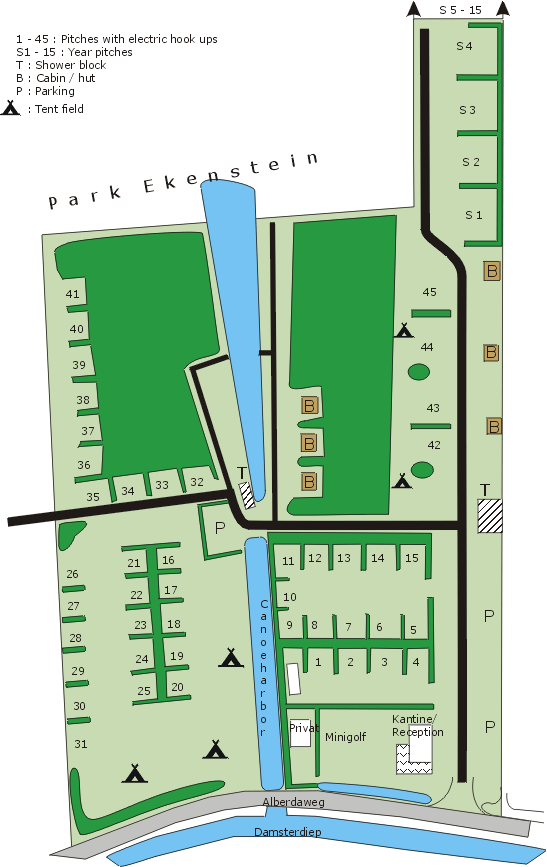 For more information and photo's, please click various spots on the map above.